Top 5 Fire Safety Tips for Fire Safety Week From Inishowen Co-Op
Posted by EVELYN MC GLYNN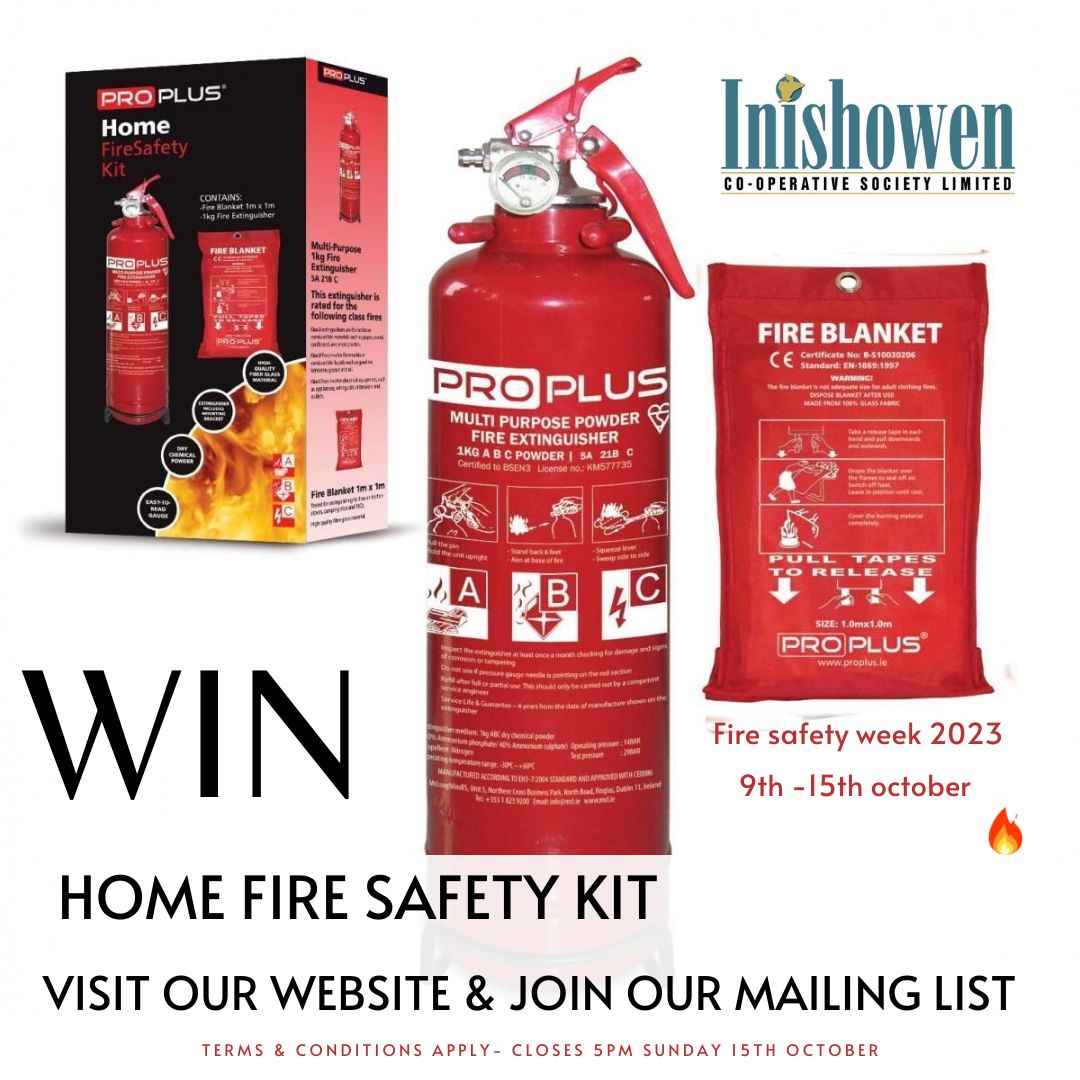 Stay Safe and Secure: Top5 Fire Safety Tips for Fire Safety Week
from Inishowen Co-Op
Fire Safety Week, from 9th to 15th October, is the perfect opportunity to remind ourselves of the importance of fire safety in our homes. At Inishowen Co-Op, we want to take this opportunity to create awareness and have put together five toptips to helpyou think about fire safety.
 Plus, read on to the bottom and don't miss out on our exciting competition where you could win a Proplus Home Fire Safety Kit worth €32.95. Read on to learn how to protect your home and loved ones.
Install Smoke Alarms:
One of the most crucial steps in fire safety is ensuring your home is equipped with working smoke alarms. These devices provide early warnings in the event of a fire, giving you and your family more time to escape safely. Check your alarms regularly and replace their batteries at least once a year.
Create an Escape Plan:
Develope a clear and well-practiced fire escape plan with your family. Identify multiple exit routes from each room and establish a meeting point outside your home. Practicing these drills will helpeveryone stay calm and respond efficiently in case of a fire.
Mobile Phone Usage in Bedrooms:
Did you know that using mobile phones in bedrooms, especially while charging, poses a fire hazard? Overheating can occur when phones are left plugged in for extended periods, leading to potential fire risks. To stay safe, charge your phone in a designated, well-ventilated area, and avoid overloading electrical outlets.
Store Flammable Items Safely:
Be mindful of where you store flammable materials in the home and on the farm. Keepthem in a cool, dry place, away from heat sources, and store them in properly sealed containers. Proper storage can prevent accidental fires.
EquipYour Home with Fire Safety Equipment:
Ensure your home is equipped with essential fire safety equipment. Visit Inishowen Co-op's online store or shopin-store for quality fire safety products, including fire extinguishers and fire blankets. These items are vital in case of a small fire emergency and can helpprevent situations from escalating.
Competition Alert:
Before October 15th, don't forget to enter our exciting competition. Subscribe to our mailing list to receive the latest news and exclusive deals from Inishowen Co-op.  You may have signed in when you arrived on the blog page if not Just click here then scroll to the bottom until you see the following and insert your details.
Plus, one lucky subscriber will win a Proplus Home Fire Safety Kit, which includes a 1kg fire extinguisher, a 1m x 1m fire blanket, and a fire extinguisher stand and holder. The kit is valued at €32.95 and is an essential addition to your home's safety.
During Fire Safety Week and all year round, prioritizing fire safety is essential to protect your home, farm and family. Follow these top5 tips, including being cautious about mobile phone usage in bedrooms, and consider investing in quality fire safety equipment.
Don't miss the chance to win the Proplus Home Fire Safety Kit by subscribing to our mailing list before October 15th. Stay safe, plan ahead and be prepared in advance when it comes to fire safety.
Collection 2019
Sale 70% Off
Third slide